Join Our Team!
Be part of something special.
If you enjoy working with older adults, caring for and talking with them, learning from their stories and seeing them smile, this is the job of a lifetime. At Freedom Plaza, you can jump-start a senior living career or build the one you have. You'll grow, advance, and gain knowledge in senior services — one of the fastest-growing career fields in the country.
Freedom Plaza is located in Sun City Center, FL, on a beautiful 140-acre campus that features its own private lake, fishing pond and 18-hole golf course. We're minutes from downtown Tampa, and easy to get to from U.S. Highway 75, Florida State Road 674 or U.S. Route 301.
We offer jobs at all levels and for all types of skills and expertise. You'll join a unified team with supportive management and talented co-workers who want to make a meaningful difference for our residents. With integrity, a solid work ethic and empathy for older adults, you can create a long, satisfying and fruitful senior living career at Freedom Plaza.
To learn more about working at Life Care Services community like Freedom Plaza, watch the video below.
Our benefits.
We offer comprehensive benefits for full-time and part-time employees. These include competitive wages, health insurance, paid time off, and a generous 401(k) company match. We also offer sign-on bonuses for positions in health services, hospitality and housekeeping.
Freedom Plaza has partnered with Daily Pay to give our team members control over accessing their paycheck on their own schedule. Ask us about how this benefit supports your financial wellbeing today!
Full-time employees are entitled to:
Medical, dental and vision insurance
Life and accident insurance
Short- and long-term disability insurance
401(k) retirement plan
Paid time off for vacation and sick leave

Employee education assistance program
Shift differential pay (clinical staff)
Education scholarships
CEU hours
Job shadowing opportunities
Freedom Plaza is an equal opportunity employer and a drug-free, tobacco-free, smoke-free and vape-free workplace. Background checks and drug screening are a standard part of the application process.
Safety is an integral part of our community. Our commitment is to keep our associates healthy and happy with initiatives such as the new LCS EverSafe 360° program, and partnerships with vendors to provide safe equipment and training.
Why start today.
We've got your back.
This is a great place to work. We hire people who genuinely enjoy interacting with seniors and take pride in making a positive impact in their lives. It's a positive, supportive culture where we care about each other like family.
Your timing is perfect.
It's estimated that 10,000 baby boomers turn 65 every day, and that by 2031, they'll number 75 million. And they're living longer. Working at Freedom Plaza provides plenty of job security as you move up the career ladder.
Enrich your life.
The seniors of Freedom Plaza are fascinating people. Visit with them, and you'll hear life stories that span decades, oceans and continents. Their friendship, wisdom and creativity may change the way you see the world.
Our culture.
At Freedom Plaza, we want you to love your job. We address everyone with friendliness and warmth, greeting residents and coworkers by name with a smile or a friendly wave. We hold parties, celebrations and other events that are fun for everyone, where you get to know the residents and your team members too.
We're committed to transparency and have an open-door policy, so you know about and understand the decisions that affect the workplace and community. A new hire ambassador will ensure you feel welcome and get the training you need. We empower you to own the issues that come your way with the LAST approach: Listen, Apologize, Solve, and Thank the person for bringing their concern to you.
We care about our employees and value what they do, so they stay with us a long time — some for up to 25 years. We believe in celebrating our employees' successes, listening to their input and helping them with succession planning. There are opportunities for growth and advancement no matter where you work in our community.

Glimpse our grounds, buildings and residents.
Take a look at the gallery and see why Freedom Plaza senior living community is one of the finest retirement communities in Sun City Center, FL!
Awards.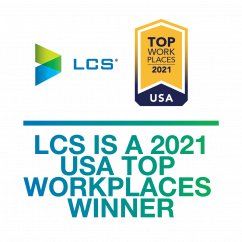 Top Workplaces USA recognizes the LCS company culture and employee engagement, making Freedom Plaza an employer of choice. We're full of gratitude to be recognized for a culture of excellence.
Take the next step.
Be proud of where you work. We offer excellent benefits and a culture that's warm and welcoming to all. Apply for a full-time or part-time position with us today.