Adaptive Fishing Equipment for Seniors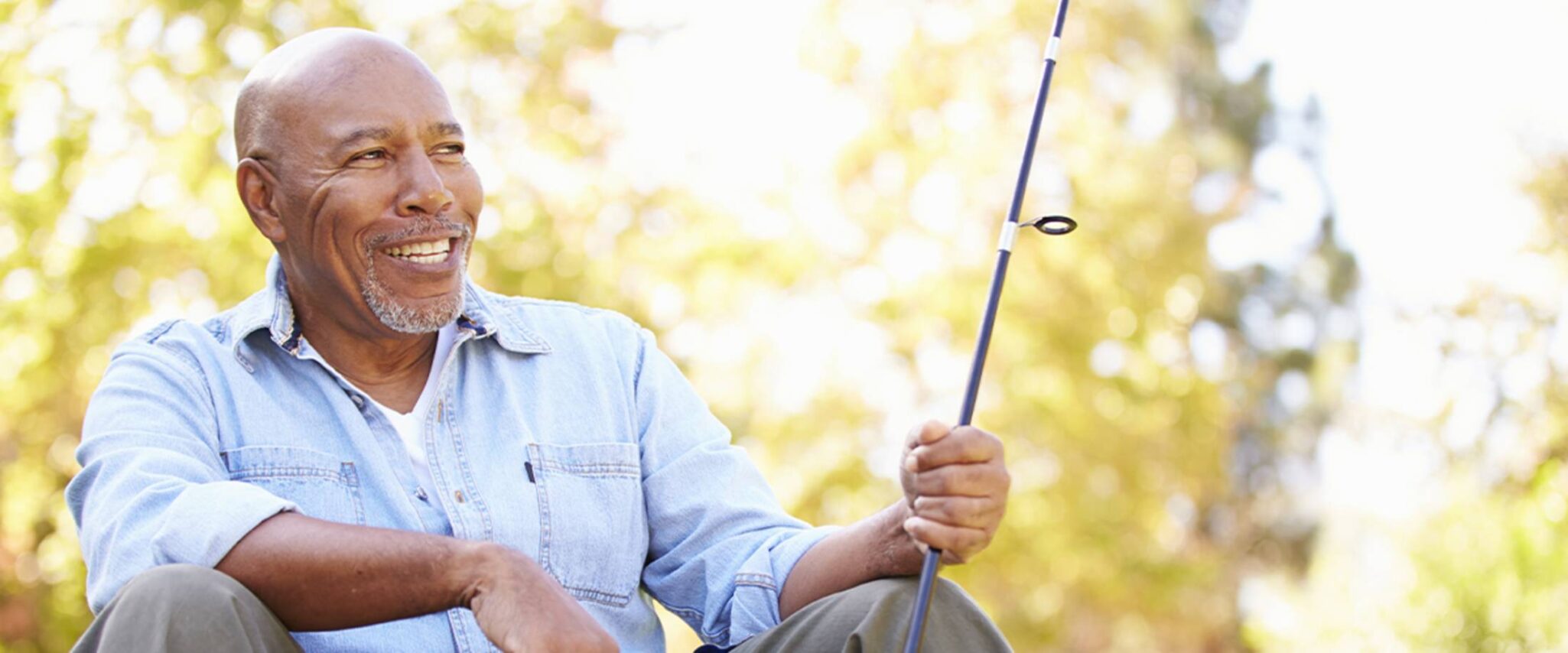 Fishing is a pastime loved by people of all ages and abilities. Did you know there's a lot of adaptive fishing equipment that lets those with limited mobility keep enjoying this  hobby? Here's a quick roundup  of some fishing equipment for seniors that just might help you continue having fun fishing and telling stories of the one that got away.
Adaptive Fishing Rod Control Aids
There are a number of harness mounts and aids for those with limited mobility. They make it easier to cast, hold the rod, and reel in your catch.
A front-mounted harnessed rod holder is designed for those with limited upper body mobility. This can also be used as a one-armed fishing system.
A side-mounted harnessed rod holder is ideal for people with hand or arm mobility issues.
Arm braces such as this and this make it easier for those with limited or no grip to hold a fishing rod. These metallic or partially metallic braces clamp onto your arm to hold the rod in place, leaving your other arm free to maneuver.
A fishing rod holder for wheelchairs makes it easy to operate fishing equipment with one hand. The adjustable brace clamps on securely and keeps the rod close by and easy to use.
Customized spinning and casting rods are available for adaptive one-arm fishing.
Fishing Reels
Motorized fishing reels can be helpful for those with limited grip due to arthritis, people with disabilities, and amputees. You attach them to existing reels and make pulling in the catch as easy as pushing a button. You can find options here and here.
A bite alert fishing reel beeps and lights up to let you know a fish is biting on the hook. These reels are helpful for people with low vision.
Other Adaptive Fishing Equipment for Seniors
This is just a sampling of available adaptive fishing equipment for seniors. There are a lot of options out there to help you or your loved one keep enjoying this relaxing outdoor activity. When choosing equipment, make sure it's specific to the need. Not all needs are the same, and it's possible to overburden the fisherman with too much equipment.
Fishing is also easy at Freedom Plaza. We have a lake and a fully stocked fishing pond right on campus. And with maintenance-free living, housekeeping, and restaurants right here, you can spend more of your time focusing on catching fish – or pursuing any of your favorite hobbies.