How Senior Living Combats Isolation and Depression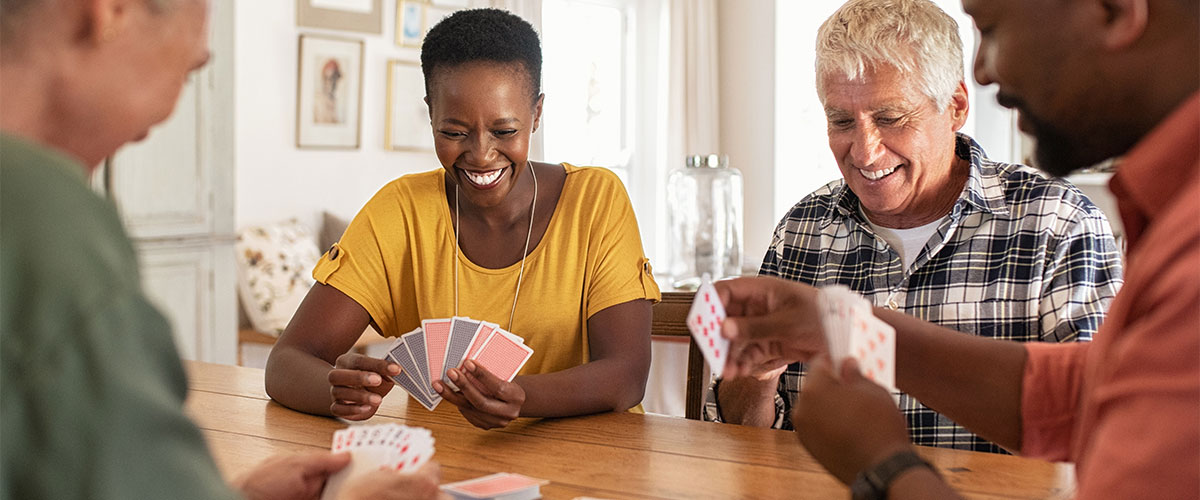 Social isolation in older adults creates a greater risk for loneliness and depression. Lack of mobility and health issues can worsen this concern for many seniors who live alone. The neighborly environment and social activities for seniors at retirement communities can be effective solutions to help seniors feel connected and supported.
What Is Social Isolation?
Social isolation is a state of physical separation from others. Remaining in this state for extended periods of time can cause feelings of loneliness and depression in seniors.
The Dangers of Loneliness
Loneliness is more than an emotional issue. According to research by the National Institute on Aging, it has been linked to higher risks for cognitive decline, high blood pressure, a weakened immune system, Alzheimer's disease, heart disease and early death.
What's the Solution?
Recognizing the severity of this issue, AARP's Connect2Affect initiative has conducted extensive research to find the best solutions to combat loneliness, depression and social isolation in older adults. Among their insights, they discovered that the size of a person's social network and a state of physical isolation are the strongest predictors of loneliness.Some of the lifestyle changes that can ease symptoms of loneliness and depression in seniors include:
More physical activity
New hobbies and interests
Regular visits with family and friends
Good sleep habits
Well-balanced diet
More time volunteering
Better health
Senior living can help improve each of these facets of life with a holistic approach to wellness, expert support and a full calendar of activities.
More physical activity: Communities like Freedom Plaza offer diverse and fun opportunities for fitness, from golf and tennis to low-impact yoga and water exercise. We provide plenty of opportunities to socialize during fitness activities, but if your loved one doesn't enjoy group classes, they can still take advantage of our fully equipped exercise centers and nature trail.
New hobbies and interests: With a woodworking shop, arts and crafts room, game room, and a slate of interesting speakers and entertainers invited to our auditorium, residents are constantly discovering new pursuits and new friends to share them with.
Regular visits with family and friends: Within a community, seniors can be as social as they choose. They'll have the option to join friends for dinner or enjoy a quiet night in their residence. They can meet for bridge games, go on outings with friends or find a new golf buddy. Family will love to visit our beautiful campus for a meal or a movie of the week. The grandkids may even enjoy a swim in the pool. The opportunities to form meaningful connections are abundant in a community setting.
Good sleep habits: Your loved one would still have complete control of their schedule in a community, but they may sleep better knowing their health needs will be taken care of, even if they outlive their assets. Regular fitness and an enriched diet can also contribute to better sleep.Well-balanced diet: A professional chef works with a certified dietitian or nutritionist to create meals that are not only delicious, but also high in needed nutrients. If your loved one has special dietary requirements, simply let the team know.
More time volunteering: Many communities, including Freedom Plaza, find fun ways to give back to the community, and residents often lead the charge. One of our favorite charities to raise money for is the Alzheimer's Association. We create fun events like dances, silent auctions and raffles to raise funds for a worthy cause, so we can do good and have fun together at the same time.
Better health: Senior living can improve more than residents' physical health. It also promotes social, emotional, spiritual, occupational and intellectual wellness.A well-rounded lifestyle creates more satisfying days, and in the 2019 Mather Institute's Age Well study, older adults in Life Plan Communities reported higher levels of optimism, a greater sense of purpose and more social activity.Community life offers one of the best comprehensive approaches to combat social isolation among seniors, but it can be a difficult conversation to begin, especially if your parent is struggling emotionally. If you find yourself at a loss for how to help a parent with depression, encourage them to speak with their doctor or a licensed therapist. Even with the right professional guidance about depression in seniors, you will want to begin from a place of empathy and listen carefully to their feelings and concerns. But you can let them know that senior living is a great option and make sure they're aware of all the benefits they could find in a community.
If you think senior living could be a good fit for your parent, and you'd like to know more about Freedom Plaza at Sun City Center, simply let us know. We'd love to give you a tour and answer all your questions.