Veterans Benefits: What You Need to Know When Looking at Senior Living and Senior Care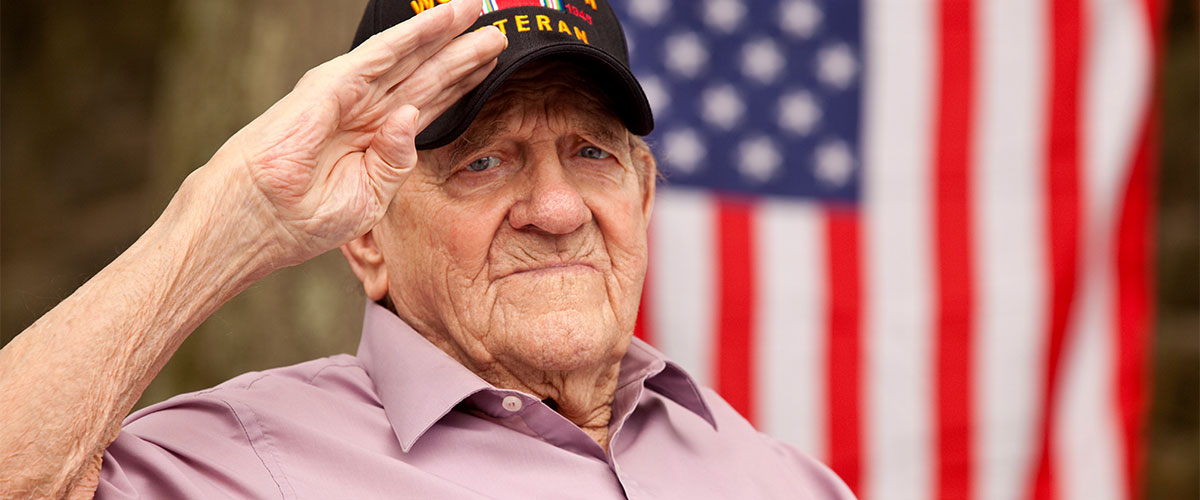 Veterans Retirement Benefits
According to data compiled by the U.S. Census Bureau, veterans ages 65 or older numbered 9.2 million in 2016. While some served in peacetime, many served in global conflicts including World War II, the Korean War, the Vietnam War, and even in the Gulf War. Wartime veterans or their surviving spouses who meet certain age or disability requirements, and whose income and net worth fall within certain limits, may qualify for a monthly Veterans pension and other benefits through the VA (U.S. Department of Veterans Affairs) to offset the cost of senior care.
What are you entitled to as a senior veteran?
The VA website has very clear descriptions of programs and types of assistance for retired veterans or their survivors, including how to apply. As every person's situation is different, it's worth spending time discovering and understanding the range of veteran retirement benefits that are available, depending on your specific service history and eligibility. Not every benefit is available to every veteran, and it's usually not possible to receive two different types of benefit simultaneously.
What is Aid & Attendance or Housebound?
For those who currently receive a VA pension, these two lesser-known VA programs may provide assistance toward the cost of assisted living and other types of senior care:Aid and Attendance Benefit
If a veteran needs the aid or assistance of another person, they may be eligible for additional monthly payments above their normal pension amount. According to Senior Veterans Service Alliance, Aid and Attendance is an underused pension benefit, with about 25% of war veterans and their spouses qualifying, but only 5% actually receiving it.The VA considers "countable income" as monthly income minus the costs of eligible medical care. So even veterans with an income exceeding the yearly household limit may qualify for Aid and Attendance if they have large medical expenses that aren't currently reimbursed. The money is tax-free and can be used for in-home care, board and care, an assisted living community or a private-pay nursing home.To qualify, a veteran or their survivor must meet at least one of these requirements:
Need help with the activities of daily living such as bathing or dressing
Stay in bed or spend a large part of the day in bed because of disability or illness
Need long-term nursing care as a result of a disability
Have very poor eyesight
Housebound Benefit
The Housebound benefit is paid in addition to the basic pension. "Housebound" in this context means the individual is confined to their home because of a permanent disability. The VA determines eligibility on a case-by-case basis.A veteran or their survivor may qualify for one or the other of these benefits, but not both. Apply to your pension management center in person or download the forms from the VA website. You'll be asked to provide medical evidence for the type of care you need and details of how your abilities are affected.These sorts of benefits can be of significant help when considering whether to move to a senior living community for veterans with assisted living or long-term care options.
When should veterans start looking at senior care?
It's widely reported that the VA application process can be complex and time-consuming. It often takes up to a year to get approval. Once approval is given, the benefit is paid retroactively and includes a lump sum that covers the months that the application was in process. Starting to research your options sooner rather than later will give you more opportunities to visit senior living communities for veterans and determine which services and amenities you need and want.
Where are the best places for a veteran to retire?
Where you retire is highly personal and depends on many factors. Costs, lifestyle preferences, proximity to family, and quality of life should all be carefully balanced before making a decision. Many older adults decide to move to a senior living community after comparing the costs of their current home to the value of everything that's included in a senior living community. The maintenance-free lifestyle, restaurant-style dining, enriching activities, and access to on-site health care are among the many other reasons why older adults and their families prefer life at a senior living community.
Why do veterans choose Freedom Plaza?
Many veterans who live at Freedom Plaza say they wish they'd moved earlier. The high number of other veterans in the community generates a sense of kinship and understanding unlike anywhere else. In addition, the location in Sun City Center provides access to an array of veterans clubs, where it's easy to build friendships and celebrate national holidays that honor veterans and their service.Interested in exploring one of the best places for veterans to retire? A community such as Freedom Plaza can help you maximize VA benefits and afford the high-quality care you deserve. Contact 816-418-6584 to arrange a virtual visit. Or join us at one of our upcoming events for prospective residents.