How to Find the Right Senior Apartment Size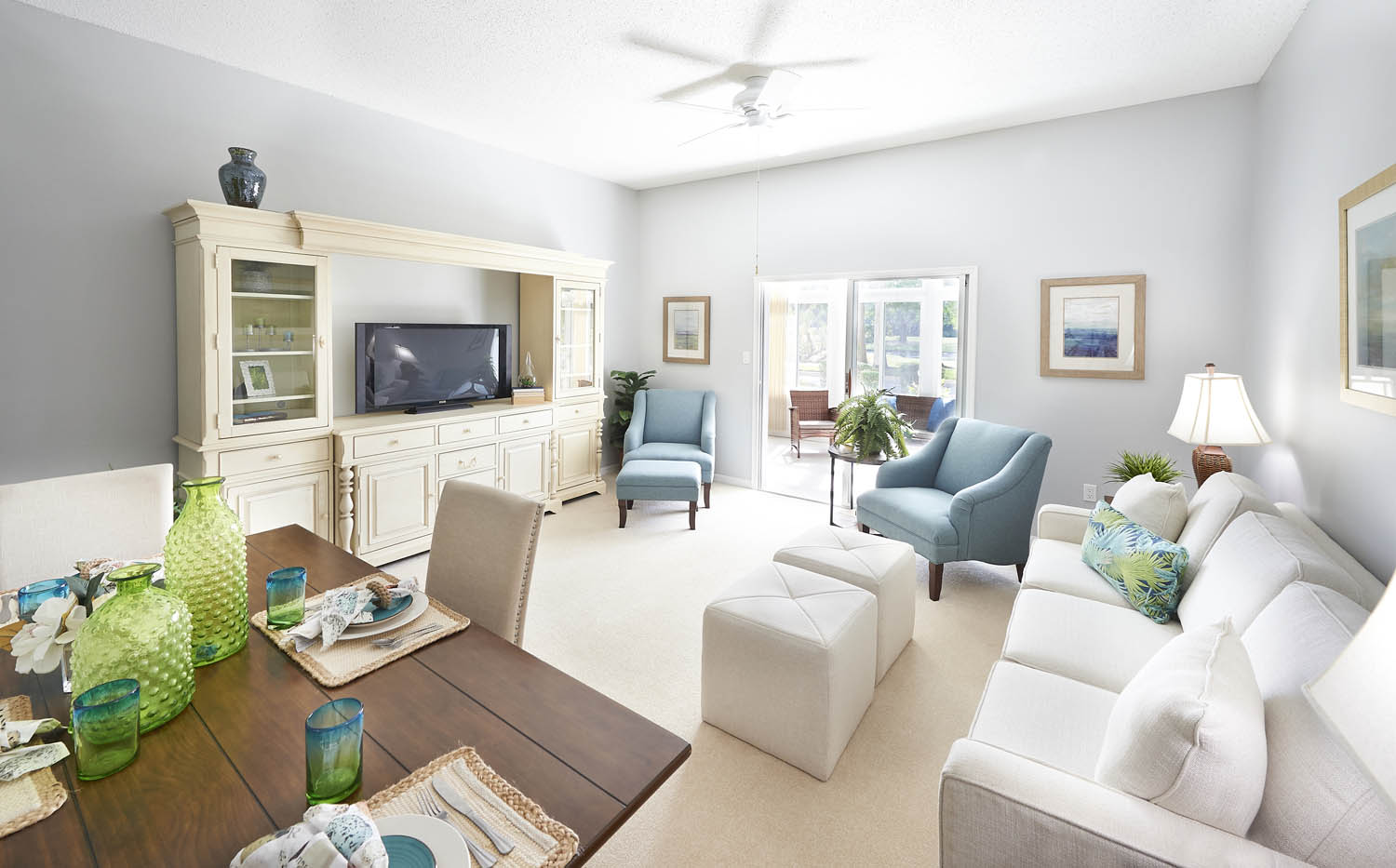 Retirement is a time to do the things you've always wanted and finally have the time and peace of mind to both relax and explore. One of the key aspects of truly enjoying a carefree retirement is finding the right space for the lifestyle you want, but keep in mind that you don't have to compromise on space to live a grand lifestyle when moving to a senior living community. Rightsizing, making your space reflect your space needs, may seem like a steep task, but it opens up a world of possibilities for a fulfilling and active retirement.
Finding the right apartment size can be both exciting and overwhelming, but this advice will help you make sense of your options, ease the transition to your new home and ensure you have the right amount of space to lead a vibrant and joyful life.
Sizing Up Your Wants & Needs
The journey to rightsizing begins with introspection. You should carefully evaluate your needs and lifestyle preferences. For those looking forward to embracing a more minimalist lifestyle and decluttering a good portion of their belongings, a studio or one-bedroom apartment might be the most comfortable and cozy fit. Others may desire extra space to accommodate pets or visits with their grandchildren, for which a more spacious two-bedroom floor plan or standalone villa might be the best option.
When deciding what to bring along on your move and what to leave behind, begin by assessing what your new community will offer. If there is an on-site gym, do you need to bring your treadmill? If there are weekly art classes, do you need a full home studio? In the next round, choose what will bring you the most joy. Even if your quilt collection takes up space, is it important to you? Will it help make your new apartment feel just like home?
As you deliberate, reflect on the activities you enjoy and your daily routines. Do you love to cook? Do you want a more intimate setting for late-night binge-reading? Your floor plan can accommodate your preferences, whatever they may be, and self-assessment will help you find the right one for you.
Making the Most of Space: Tips for Rightsizing
While staying at your current home or living in a deluxe apartment might sound like a great thing, think about all the maintenance required and unused space that comes with larger living spaces. Downsizing does not have to mean sacrificing comfort and belongings. It's an opportunity to declutter and curate a space that truly reflects your personality. Consider donating or gifting items that you no longer need or cherish. Keep sentimental pieces that bring you joy and incorporate them into the design of your new space. Utilize smart storage solutions to maximize every inch of your apartment. Choose furniture that serves multiple purposes, such as a sofa bed or a dining table with built-in storage. By thoughtfully downsizing, you can maintain a sense of familiarity and warmth in your new home while enjoying the freedom of a clutter-free environment.
Your Perfect Fit Is Waiting at Freedom Plaza
At Freedom Plaza, residents can choose from a range of thoughtfully designed floor plans to suit their unique preferences. Whether you're seeking a cozy one-bedroom apartment or a more spacious two-bedroom layout, there's something for everyone. Let's take a closer look at the two-bedroom senior apartment floor plans available:
The Longboat and Sanibel floor plans at Freedom Plaza are a true embodiment of comfort and sophistication. Boasting two bedrooms and two bathrooms, these layouts provide ample space for both residents and visitors. The airy and spacious open concept living area seamlessly connects to the dining space and a well-equipped kitchen, making entertaining a breeze. A tranquil lanai sunroom allows you to enjoy the beautiful outdoor views in a private oasis, and the master bedroom features a walk-in closet and roomy bathroom, ensuring a luxurious living experience.
The Black Diamond, Boca Grande and Emerald Coast floor plans are perfect for seniors seeking a slightly more compact two-bedroom option. These two-bathroom, two-bedroom residences provide sufficient space while maintaining an intimate ambiance. The cozy living area opens to a modern kitchen complete with energy-efficient appliances. Residents can savor the morning sun or the evening breeze in their private Florida rooms. The master bedrooms also feature walk-in closets for added convenience.
At Freedom Plaza, seniors can enjoy the best of both worlds with their thoughtfully designed two-bedroom senior apartment floor plans. Whichever independent living apartment you choose, you can be sure your lifestyle extends far beyond your walls and into a vibrant community of active neighbors like you who want to embrace their newfound freedom without compromising on comfort. Right outside your door is a sprawling world of opportunities to enjoy premium amenities and engaging activities that fit your interests just as perfectly as your apartment fits your personality.
Finding the perfect senior living apartment size is an exciting journey of self-discovery and planning. But, if you're ever feeling lost or overwhelmed with your options, our team is here to be your guiding light. Call us any time at 813-280-5009 or contact us through our website to talk through your options or schedule a visit to see our luxurious community for yourself.