Winter Holiday Craft Ideas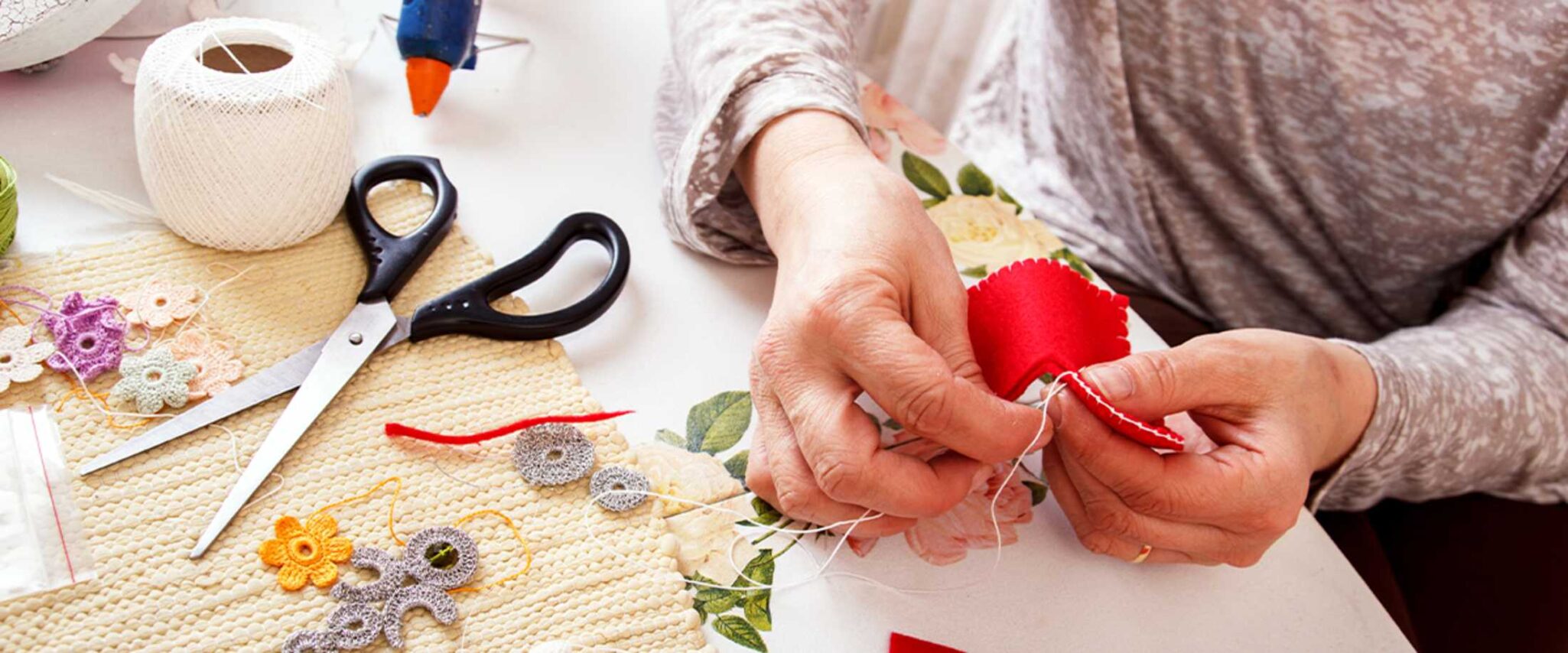 If you find yourself stuck inside this winter, fun decorations with a spirit of celebration are great mood boosters. And when you create those decorations yourself with winter crafts for adults, you enjoy the fun of putting the craft together, the sense of accomplishment when you're done, and the feeling of pride when you see your project every day. It's like a holiday gift to yourself.
Winter Crafts for Adults
Gifted Throw Pillow
Take a pillow — either with a solid color or a festive design — and tie a ribbon around it so it looks like a holiday gift. You could even add a sprig of greenery or berries in the bow. If you have a large collection of pillows, you could make it look like a treasure trove of gifts.
Fabric Wreath 
If you have leftover scraps from sewing, here's a cute way to use them. If you don't have scraps, find some cute holiday fabric, up to 10 different patterns, and cut 14" x  1.5" strips. Encase a 12" craft ring in fabric so no part of the ring shows below your strips. Then tie all your strips in double knots around the ring. Make sure the ends of the knot are facing forward, so you get a fluffy, beautiful wreath. 
Chalk Paint Ornaments
Pick up some plain, unadorned ornaments. Paint them with chalk paint. After it dries, you can use a paint pen (white, gold or silver look amazing on chalk paint) to create custom designs or messages.
Holiday Drink Picks
Cut bamboo skewers down to roughly 3 inches. Affix a mini bottle brush tree to the top with a dab of hot glue. They look adorable in your holiday drinks, and you can find bottle brush trees in a number of colors to match your libations or your other decorations.
Cozy Hat Door Hanging
Use a tightly knit winter hat with tassels down the sides. Clasp the ends of the hat together with a strong safety pin. Find a sturdy vase or container that is roughly the size of the hat opening. Glue a piece of floral foam to the bottom of the container. Stick in greenery, sprigs  and other small decorations. Place the container in the hat and hang the hat by a ribbon on your door.
Homemade Dreidel Garland
Use a marker to draw the outline of a dreidel onto a piece of felt. Use scissors to cut out the shape. You can use the existing outline to use as a template to trace more dreidels. Cut out as many dreidels as you think you'd want. Cut out decorative shapes in a complementary color felt. Glue them to the outlines with craft glue. Cut a string for garland. To get your garland to face outward, you can either glue the dreidels to the string or cut two small holes in the top of each dreidel and weave the string through.
Winter Crafts for Seniors with Dementia or Arthritis
Winter crafts for seniors with arthritis or dementia may need to have fewer steps or require less intricate work, but there are some really cute options that can make your residence look delightfully festive.
Yarn-Wrapped Ornaments
Paint wooden ornaments in bright colors. Then wrap them with yarn in complementary colors and secure the yarn with a dab of hot glue.
Pom-Poms
Pom-poms look so cute on top of a gift or strung to make a homemade garland. Select your yarn and cut off a 12" strip and set it aside. Then wrap yarn fairly loosely around the four fingers of your non-dominant hand about 50-75  times (you can wrap the yarn fewer times, but the more yarn, the fluffier your pom-poms will be). Carefully pull the yarn off your fingers, keeping the shape and set it on top of your 12" strip of yarn. Tie the 12" yarn around the middle of your bundle. Double- or triple-knot the tie to make sure it stays in place. Now you should have two looped fans of yarn on either side of your knot. Slide scissors through the loops and cut evenly. Cut the excess off your 12-inch knot-tying yarn. And fluff the yarn ends until you have an even ball shape. You can keep trimming the ends as needed until your pom-pom is as round as you want.
Paper Plate Candy
Paint or draw on paper plates to make them look like lollipops, peppermints or gold (chocolate) coins. Then wrap them in a cellophane wrapper and tie with bows. You can hang them on the walls or attach them to wooden dowels to make lollipops.
At Freedom Plaza, we take every opportunity to make the winter months as fun and fulfilling as the rest of the year. If you'd like to know more about the winter art projects and other DIY projects our residents enjoy when they're in our arts and crafts studio, contact us. We'd be happy to tell you about any of the aspects of our vibrant lifestyle.