6 Best Services and Amenities in Independent Living You Should Know About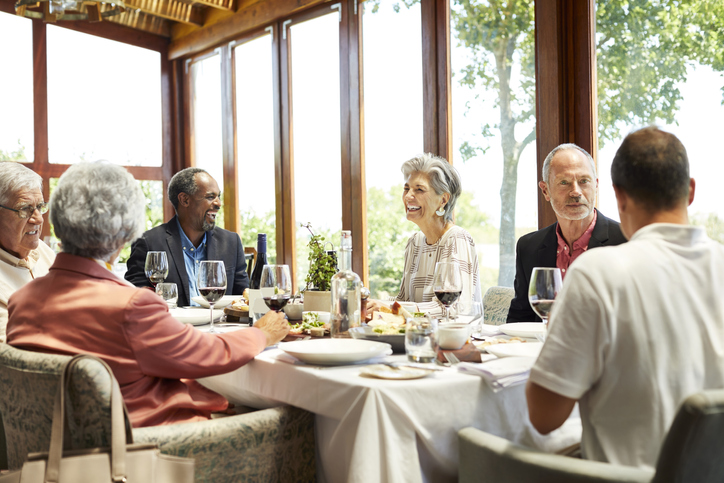 Retirement is a time to follow your dreams and live each day the way you want. For some people, this means letting go of the to-do list at home and diving into interests they didn't have time to pursue during their working years. For others, retirement is a time to focus on family, friendships, and living each day with love and laughter. It's also the perfect time to indulge your adventurous side and try new things. Whatever you see yourself doing next, choosing where to live in retirement can help bring those dreams to life. 
When you choose a resort-style senior living community with an array of independent living amenities, you'll enjoy an experience that feels like a vacation that you get to enjoy day after day. Here are some of the highlights to look for when comparing senior living options:
1. Restaurant-Style Dining
Good food brings people together. It also elevates the senior living experience. The best senior living communities offer high-quality dining with menus featuring local favorites as well as flavors from around the world. At Freedom Plaza, residents enjoy chef-prepared meals and multiple dining options, including a cafe/bistro and bar. You'll never have to worry about meal planning, cooking, or kitchen cleanup when you have the opportunity to enjoy healthy meals made with fresh ingredients and tailored to your special dietary needs.
2. An Attractive Campus
A community surrounded by open spaces, gorgeous landscapes, and nicely maintained grounds can have an uplifting effect on the people who live there, and this is especially true for senior living communities. Living in a walkable and aesthetically pleasing neighborhood can boost your mood and inspire you to enjoy more time outdoors. Freedom Plaza offers 140 acres of beautifully landscaped grounds featuring walking paths, a private lake, courtyards and gardens. Plus, residents have convenient access to pickleball and tennis courts, an 18-hole executive golf course, and a putting green.
3. Convenient Services
Life in a senior living community is free from the burdens and chores of maintaining a home. The way we see it, you have better things to do with your time than lawn mowing and window washing. Wouldn't it be nice to have "maintenance-free" also mean total lawn care and grounds maintenance? In addition to exterior maintenance and home repairs, Freedom Plaza offers housekeeping and flat linen services. For your comfort and peace of mind, there's also 24/7 security and an in-home emergency response system. If you don't want to bother with driving into town, you can take advantage of transportation services to the Greater Sun City area.
4. Wellness Opportunities
Today's seniors aren't slowing down anytime soon, and they want the perks of a wellness-focused community. Our holistic wellness program at Freedom Plaza integrates every dimension of wellness to support your physical, emotional, social, spiritual, intellectual, vocational, and environmental wellness. You'll have access to a fitness center, heated pool and hot tub, and group exercise classes including yoga and water fitness. Plus, you'll enjoy healthy dining, on-site care services and a host of programs and activities designed to help you live well.
5. Creative Expression
There are no limits to what you can accomplish when you let your creativity flow. Perhaps you want to dabble in watercolor painting or try your hand at woodworking or ceramics. Maybe you have a green thumb for gardening or want to try flower arranging. Our campus offers multiple outlets for creativity, including a woodworking shop, arts and crafts room, and resident flower and vegetable gardens.
6. A Full Social Calendar
Research suggests that maintaining social connections helps older adults live longer, happier, and healthier lives. Forming friendships with people who share your interests just happens naturally when you're spending time with people of a similar age and stage in life. At Freedom Plaza, you'll have opportunities to Interact with neighbors and friends through lifelong learning classes, volunteer opportunities, special-interest clubs, and weekly outings to Tampa, Sarasota, and the beach.
Discover Resort-Style Senior Living at Freedom Plaza
We encourage you to learn more about the benefits of moving into an independent living apartment on our gorgeous campus in Sun City Center. And because we're a Life Plan Community offering Life Care, you'll also enjoy financial predictability and a continuum of care if you need it. Contact us to schedule a tour and experience the remarkable independent living amenities at Freedom Plaza for yourself.