6 Health Benefits of Golf for Seniors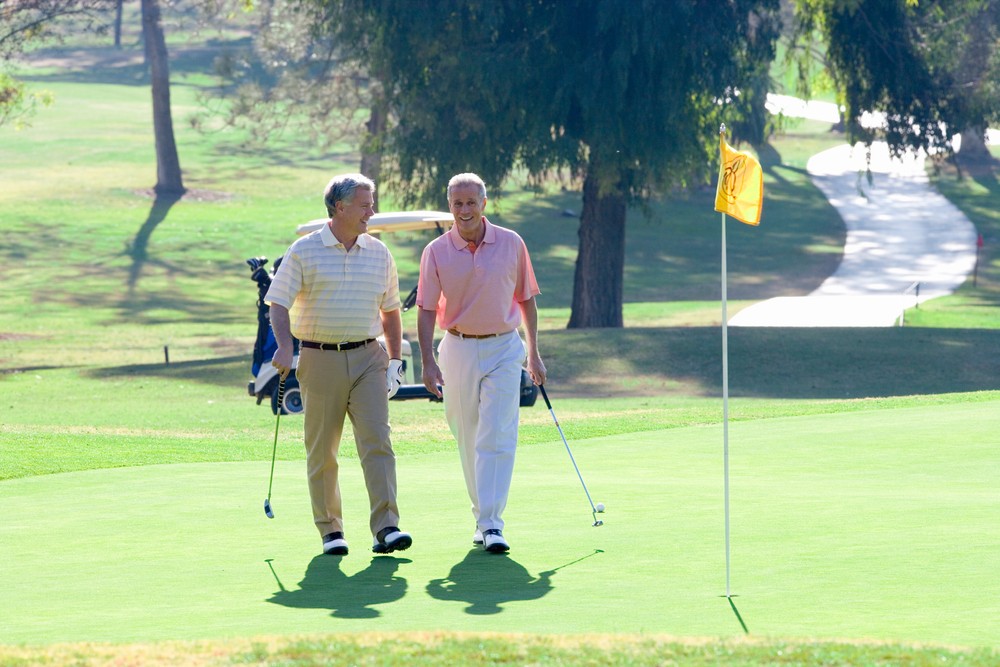 6 Surprising Ways Golf Can Help Seniors Live a Healthier Lifestyle 
Studies have shown that seeing the color green can have a positive impact on your health, and now science has shown that playing the green can have the same effect. So if you're ready for a new excuse to work on your ace, check out these 6 health benefits of golf for seniors.
1. Improve your strength and balance
It's not a secret that a fall after the age of 65 can have serious consequences on your health. The best way to prevent a fall is by improving your strength and balance. From an expert grip around your clubs to walking the green, a round of golf provides plenty of activity to keep you standing strong.
Golf can also increase your hand-eye coordination. Making repeated strokes with precision and maintaining your balance as you swing light up the areas of your brain responsible for coordination.
You can burn up to 1,500 calories playing 9 holes of golf in 2.5 hours. However, the number of holes played isn't actually what fires up your body to burn those pesky calories. It's walking the golf course with your heavy bag!
The average golf bag weighs anywhere from 20 to 30 pounds, which means you're doing about the same amount of work it takes to hike a 5-mile trail with a backpack.
Of course, you should always play your game comfortably and avoid lifting a golf bag that's too heavy. You'll still burn calories using a pushcart or lifting your bag onto a golf cart. Speak to your primary care provider before you make any adjustments to your bag or if you want to try golf for the first time.
3. Decrease symptoms of depression and anxiety
The moderate physical activity you need to play a rousing game of golf causes your nervous system to release dopamine and endorphins. These mood-boosting neurotransmitters decrease symptoms of anxiety and depression, and lower your stress levels.
Exercising outdoors is also known as "green exercise." Being in close contact with nature while you're on the golf course can provide even more stress reduction and even restoration from mental fatigue.
Not the creative type? Think again! When you begin a hobby, you tap into your creative side by figuring out different ways to be successful with your new activity. This keeps your brain sharp by reducing your risk of dementia and improving your memory.
Learning how to play golf also gives you the chance to connect with others and build lasting friendships. However,  you might miss out on the health benefits of golf for seniors when you visit the 19th hole!
5. Revive your competitive spirit
Just because you're retired from work doesn't mean you've retired your competitive spirit. Harnessing your competitive nature on the golf course reignites your passion for putting your heart and soul into everything you do, increases your self-confidence, and provides a way to measure your growth.
The dedication to improving your golf swing by getting out on the green takes considerable time management skills. This can help you keep a steady schedule and embrace each day with positivity.
Playing a game of golf can help you get a better night's sleep because it aids your circadian rhythm. When you spend time on the course, your core body temperature rises. This signals your body to stay alert and awake.
After you've hit the links, your body will cool down, which facilitates sleepiness and sweet dreams. Even better, it only takes 30 minutes of moderate exercise to experience better sleep quality the same night.
Experience the Health Benefits of Golf for Seniors at Freedom Plaza
Are you looking for a premier way to work on your short game? Then get in the zone at Freedom Plaza, where we have multiple senior living options, top-notch services and amenities, exceptional wellness programs, and the only executive golf course in Sun City Center, Freedom Fairways.
Our golf course is open to the public! Contact us online or call us at 813-693-5449 to learn more about how you can reserve a tee time at Freedom Fairways.